---
WE HAD A GREAT TIME IN FLORDIA! WISH THE REST OF YOU COULD HAVE MADE IT. MAKE SURE YOU LOOK AT THE PICTURES WE TOOK!
AND FOR THOSE THAT WERE THERE......

MICHAEL BAY EXPLOSIONS!!!!!
---
"Not everyone goes to the Parlor to get a RUB and a TUG Oiy"

LoL wish that was recorded

Xfire Guy, The Best Canadian

---
Just so you know there's no y in Oi :D

TR THRAX Grenadier

---
eh, it was simple for me, I have to work, so that I can have money for both DragonCon and for my armory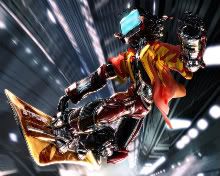 The Patriarch, Blues Drive Monster & "The Best Mexican"

---
MA BA BOOM BAYSPLOSIONS!!!!!!!!!!!!
---
I'm Laid up in bed ill. i gots Flu. Docs r so panicky cus i've been in contact with a MEXICAN :p

Steve Truelove

---
lol!!!!!!!!!!!!!!!!!!!!!!!!!!!!!1